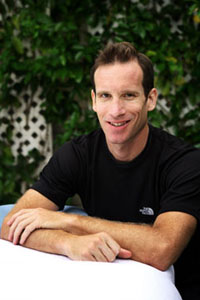 about me
Born and raised in Santa Barbara, I spent some time in Colorado and Washington DC.

I graduated from massage school in 1997 and have been fortunate enough to work full time ever since. I've had many great clients over the years that have come to me with challenges which have helped me to better my treatments, skills and most of all results. I worked at a physical therapy clinic for two and a half years where we specialized in neck, hip and spine issues. I've also had the chance to work with many professional sports athletes in my private practice that include cyclists, triathletes, football, and volleyball players. But the weekend warriors are the ones who give me my most rewarding challenges because it takes all my 1000+ school hours and all my years of experiences to get them back to work on Monday to a normal functioning work week.


Over the years I've had the opportunity to work with clients that have arthritis, Crohns disease, fibromyalgia, cancer, major back, neck and spine surgeries, disk herniation, whiplash, heart disease, osteoporosis, torn muscles and sprained tendons, migraine headaches, hip and leg imbalances, cramping, nerve injuries, GI disorders, anemia, endometriosis, pregnant mothers to the end of nine month term, edema, diabetes, plantar fasciitis, muscle imbalances, torn rotator cuffs, frozen shoulder syndrome, thoracic outlet syndrome, carpal tunnel syndrome, tennis elbow, acid reflux (GERD) disease and varicose veins.

Training

I graduated from certification training in 1997 from the Massage Therapy Institute of Colorado in Denver where I completed 1051 hours of education from a nationally accredited school.